Follow these instructions carefully to properly install the mod:
- Make sure you have played through the game's tutorial cave first
- Install SteamVR if it is not installed already
- Check the box to automatically skip the news screen if you haven't done so already
- Add -overridenohmd option to the game's Steam launch options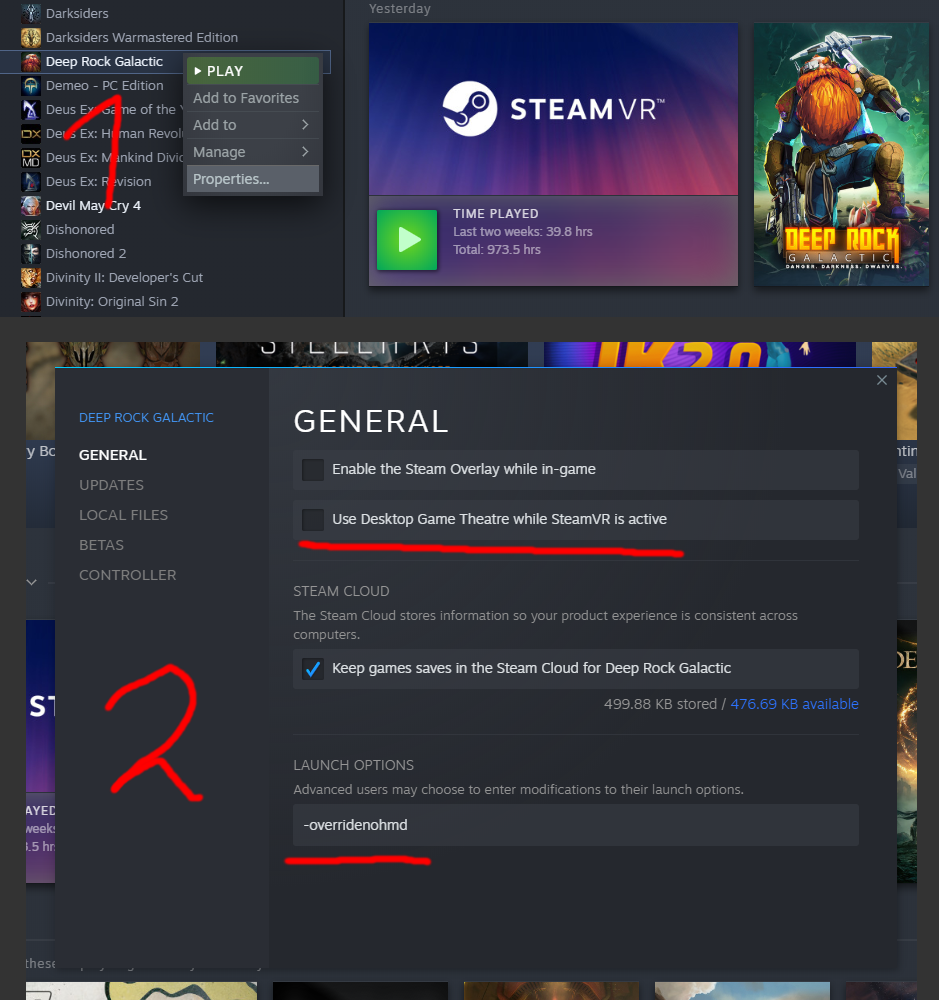 - Make a backup of your Input.ini file located at Deep Rock Galactic\FSD\Saved\Config\WindowsNoEditor\Input.ini
- Unzip Config.zip (Drive.google.com) into Deep Rock Galactic\FSD\ and accept to override files (you should now have a Config folder next to Binaries, Content etc)

- Log in to mod.io with your steam account.
- Subscribe to the mod here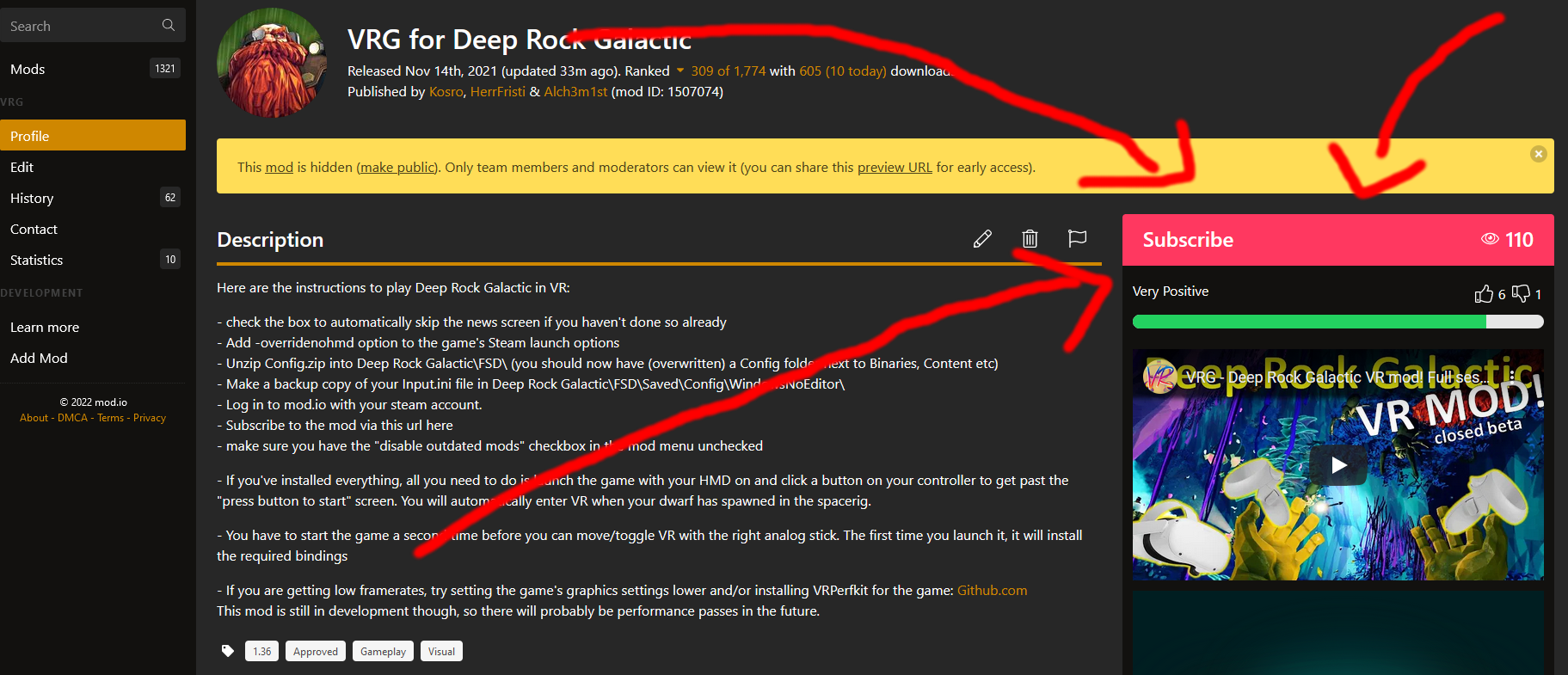 - Make sure you have the "disable outdated mods" checkbox in the mod menu unchecked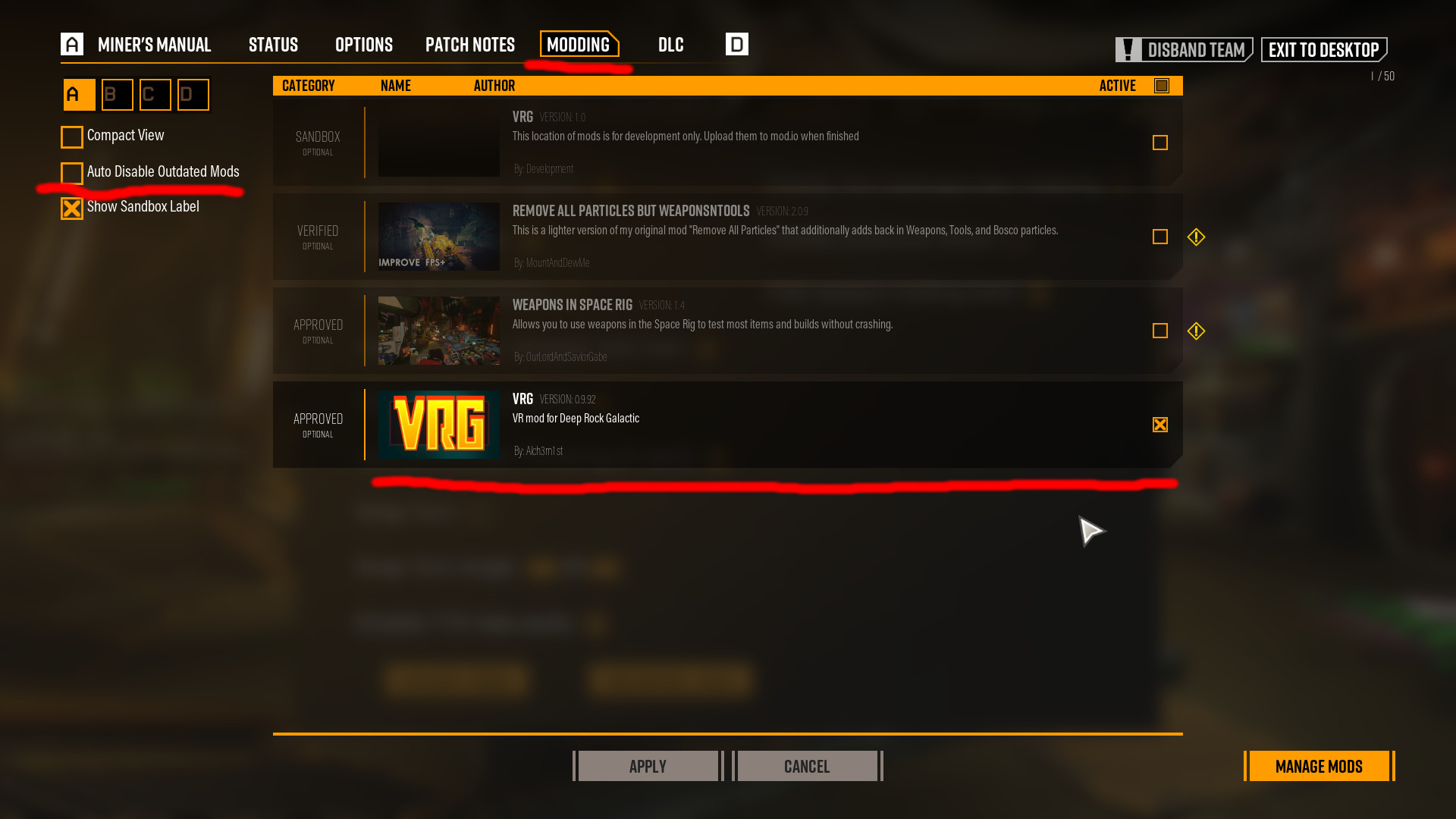 - If you've installed everything, all you need to do is launch the game with your HMD on (ignore any Steam warning saying "Deep Rock Galactic does not support VR", just press OK) and click a button on your controller to get past the "press button to start" screen (button on your keyboard for Oculus Link/AirLink users). You will automatically enter VR when your dwarf has spawned in the spacerig.
- You have to start the game a second time before you can move/toggle VR with the right analog stick. The first time you launch it, it will install the required bindings
Remarks
- This mod is currently in beta, you will encounter bugs, maybe also crashes, and things will not be as smooth as they could, but we're working hard on this mod every day and we're very dedicated to improving it to the best of our abilities, and trying to make it feel as good as possible! Join our Discord (link at the bottom) to keep up with our updates!
- If you are on Quest, the game runs overall better with Virtual Desktop. Link/Air Link has a few bugs like hands and arms holsters that are offset from their base position. Link is still very playable, but if you have the choice, better pick VD.
You might encounter crashes. These things might help to reduce them:
- Running the game in DirectX 11 mode
- Disabling the Nvidia game overlay
- Quest 2: playing via Virtual desktop instead of Air Link
- Don't press V while inside the spacerig
- There is a known crash that may happen when the drop pod lands. Some unlucky players have it all the time, others have it only sometimes, or even not at all. There is no known fix yet, some say it helps to lower the graphics settings, but we're still trying to figure out a way to fix it
Performance notes:
- Most people will want to set their Shadows, Post-processing and Effects Graphics setting to Low, you can keep the rest on Ultra without it affecting performance much.
- If Low settings still aren't enough, we heartily recommend using VRPerfkit. It's quick & easy to install and makes a good difference: Github.com
- The mod is tested primarily on Low settings with VRPerfkit, achieving 90 fps in caves on a GTX 1070 and 10 year old intel i7 on a Quest 2 with Virtual Desktop
Basic controls:
- You have 5 holsters: 1 on each leg, 1 on torso and 1 behind each shoulder (the ones behind the shoulders are thus not visible)
- Press the right analog stick to summon a VR settings menu, you can also summon the escape menu and recenter your height from there
- To open the different menus in the space rig, press left B when standing next to one (similar to flat mode with the 'E' key)
- Left thumbstick: walk around
- Right thumbstick: rotate player, rotate map while map is open
- Right B to mine
- Right A to jump
- Left B to "Use" (E in game) and reload
- Left A button to bring up the map in front of you
- Grab button when near a holster to grab a weapon
- Trigger button to fire
- With an empty left hand, hold left trigger to summon a useful menu
- With the map open, hold the Right A button and move your hands closer together/further apart to zoom the map (a bit buggy atm)
- To drink, hold your beer above your head and press trigger
- Hold the right analog stick for 2 seconds, or press numpad 9 when the game window is focused to toggle VR off/on
Gestures
- Raise both empty hands for about 1 second to call Molly
- Raise the pickaxe and an empty hand above your head to Rock & Stone! (or simply both empty hands in the space rig)
- Wave a hand above your head to shout for attention and be seen from your friends
- Place your hand above your head and hit trigger to toggle flashlight on/off
Troubleshooting FAQ
Q: I cannot move or do anything
A: Make sure you restarted the game at least once after the mod installation (VR bindings are only applied the second time the game is launched)


Q: I encounter visual glitches or jittering/stuttering
A: Launch the game in DirectX 11 mode (instead of DirectX 12). DX11 is much more stable and usually fixes all those visual glitches. You can select between DX11/DX12 in the Steam game launch window.


Q: My hands are stuck at my feet and/or controls aren't working
A: Seems like something went wrong when extracting Config.zip. Please watch the video above on how to do it correctly, i promise it'll work! :)


Q: I keep getting crashes
A: We are likely close to fixing these, in the meantime, check out the stability tips a bit above here
For help, news and much more, come to our VRG channel in the Flat to VR modding Discord server! Discord.gg